Originating in Rhode Island, coffee syrups now attract a global market because of small coffee shops that made it big in the industry. Mention Starbucks, The Coffee Bean Experience, Seattle's Best, and more and consumers will instantly think about ordering frappes, hot chocolates, classic coffee flavors, and caffeinated drinks infused with coffee syrups.
Because of the huge global market that coffee syrups have now made possible, more and more manufacturers of coffee syrups are starting to appear – making the competition stiffer and fiercer. There are brands that dominate the coffee industry however. Here they are:
1.
Monin Coffee Syrups – With its history originating in France, Monin has grown to become one of the leading brands of coffee syrups. Aside from manufacturing coffee syrups, Monin also concocts liqueurs, aperitifs, non-alcoholic cocktails, and iced tea concentrates. There are over 70 varieties of coffee syrups to choose from, some of which are non-traditional such as Granny Smith apple, lavender, and gingerbread.
Torani Syrups – The San Francisco-based company became one of the best-selling brands in coffee syrups in 1990, when it became involved in the creation of flavored latte, an Italian coffee drink mixed with espresso and steamed milk. Distributed in over 40 countries worldwide, Torani products include syrups, sauces, and blended drink bases. There are more than 60 flavors to choose from, all of which contain zero grams of fat. Egg nog, cheesecake, and pumpkin spice coffee syrups are just some of its non-traditional coffee syrup flavors.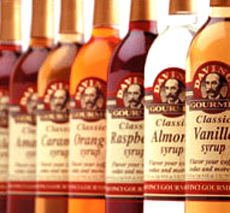 Da Vinci Syrups – Born in Seattle, Washington in 1989, the Da Vinci brand is one of the youngest manufacturers to enter the coffee industry. Despite that fact, it remains to be a top-selling brand when it comes to coffee syrups. Some of the best coffee syrup flavors of Da Vinci include chocolate, fruits, and nuts.
Monin, Torani, and Da Vinci certainly reign supreme in the world of coffee syrups but there are other brands that offer delicious flavors that consumers can choose from. Watch out as we finish our two-part series on the best-selling brands of coffee syrups today.